Chernovetsky surprised that the security service looks for it in Ukraine
According to the ex-mayor of Kiev Leonid Chernovetsky, the attorney General Lutsenko several times received documents about his place of stay
This ex-Kyiv mayor wrote in Facebook.
"My lawyers very long ago filed information about my address in Prosecutor's office. In Ukraine, I was there for almost 6 years and before you declare me wanted, the SBU had to ask the prosecutors and my lawyers where I am," wrote Chernovetsky.
According to Chernovetsky, Prosecutor General Yury Lutsenko repeatedly received official documents about his actual place of residence.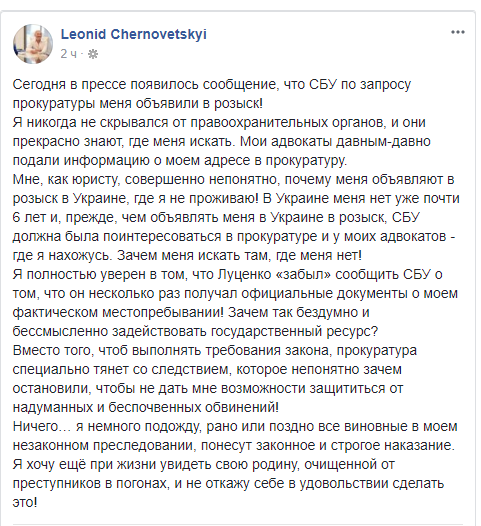 14 July 2017 former Kyiv mayor Chernovetsky is reported about suspicion in Commission of the criminal offense under part 2 St. 364 criminal code of Ukraine.
The ex-mayor of Kiev Leonid Chernovetsky has declared that declared him a suspect in the abuse of power is revenge by the Prosecutor General Yury Lutsenko.
On 26 July, the investigators, the GPU has received court approval for the detention of Leonid Chernovetsky with the purpose about to participate in the consideration of the petition for arrest eks-the mayor of Kiev.
On 12 September it became known that the security Service of Ukraine is looking for ex-mayor of Kiev Leonid Chernovetsky.
Information taken from: https://espreso.tv/news/2017/09/12/chernoveckyy_zdyvovanyy_scho_sbu_shukaye_yogo_v_ukrayini